The Ghost of Crowley Hall full movie poster was used to promote the film completing in the winter.




Website Navigation

Movie Productions




'The Ghosts of Crowley Hall' DVD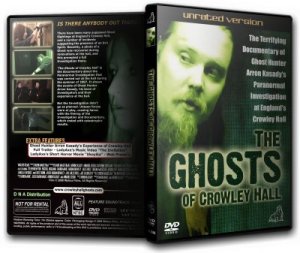 'The Ghosts of Crowley Hall' DVD was first released 14th February 2008, and has so far only been available from the official Ghosts of Crolwey Hall website.

The Region 0 (NTSC) Version of the Movie 'The Ghosts of Crowley Hall' is now available to buy from this site for only $14.99. Be the first to find out what really happened at Crowley Hall during the Paranormal Investigation there in 2007.

DVD Specifications
Certificate
Unrated Version
Year
2008
Screen
Widescreen 16:9 Anamorphic
Languages
English
Duration
1 hour and 25 minutes (approx)
Region
Region 0 NTSC. Will play on NTSC and multi-region DVD players (See Below)
Special Features
'The Ghosts of Crowley Hall' Movie Trailer
Web Trailers
Ghost Hunter Arron Kasady Interview
'The Invitation' Music Video by LadyAxe
Short Horror Movie 'Ukoyika' by LadyAxe

What is Region 0
Region 0 designates no actual region, but it is used as shorthand for a disc meant to be playable on all players. Whereas most DVDs sold for home entertainment purposes are "region coded", region 0 DVDs are unrestricted and unencoded discs that are playable on (most) DVD players worldwide (however not all players/TVs play/display NTSC or PAL discs (they'll play at least one of the two standards) and this should be verified).

DVD Screenshots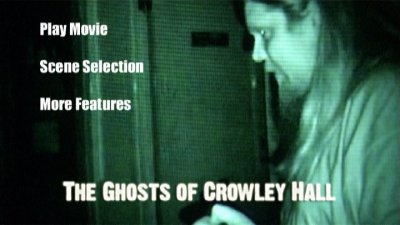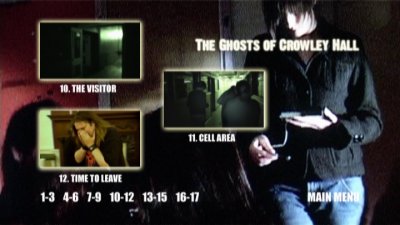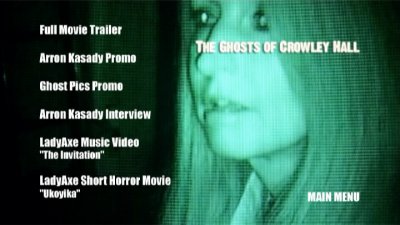 Film Links
LOVEFiLM : Rent unlimited DVDs in the UK for only 9.99 per month. All postage paid. No late fees. No due dates. No strings. No fuss. Free trial period.

Filmmaking.net - reference and community for the new and independent filmmaker, incorporating the Internet Filmmakers FAQ, second-hand equipment, filmmaking events, filmmaking sites and services, discussion forums, worldwide film schools, and filmmaking books, software, gear and magazines.

The UK Film Council. An international festival of premieres, previews, gala screenings, documentaries, restored classics, short films, artists' film & video, special events, film-maker talks and on-stage interviews, open to everyone at cinemas across London.



Play.com - Buy DVDs, CDs, Video Games, Electronics, Books and Ringtones with free delivery to UK and Europe. Play.com is the top site for dvds, cds and games in the UK. We stock all major movies on DVD.

The ultimate online starting point for film-makers and film lovers. A search engine featuring exclusively movie-related links. Movie makers, film buffs and film students from around the world call Film-Makers.com home.

Raindance is dedicated to fostering and promoting independent film in the UK and around the world. Combining Film Training, Rawtalent, Film Festivals, Reelscene, and hosting the prestigious British Independent Film Awards, Raindance spans the full spectrum of independent filmmaking.

Sign up and receive our newsletter filled with all sorts of news and info about present and upcoming projects!