The Top Selling DVD's

The Wizard of Oz (70th Ann Two-Disc) DVD $16.99
Starring: Judy Garland, Billie Burke Rating: NOT RATED


Up DVD $16.99
Starring: Edward Asner, Jordan Nagai Rating: PG


Monsters vs. Aliens DVD $15.99
Starring: Seth Rogen, Reese Witherspoon Rating: PG


The Proposal DVD $16.99
Starring: Sandra Bullock, Ryan Reynolds Rating: PG-13


Trick 'r Treat DVD $14.99
Starring: Anna Paquin, Brian Cox Rating: R


Snow White and the Seven Dwarfs DVD $18.49
Starring: Adriana Caselotti, Harry Stockwell Rating: G


Star Trek DVD $16.99
Starring: Chris Pine, Zachary Quinto Rating: PG-13


Transformers: Revenge of the Fallen DVD $16.99
Starring: Shia Labeouf, Megan Fox Rating: PG-13


Ice Age: Dawn of the Dinosaurs DVD $16.99
Starring: Ray Romano, John Leguizamo Rating: PG


The Little Mermaid (Platinum Edition) DVD $19.99
Starring: Rene Auberjonois, Christopher Daniel Barnes Rating: G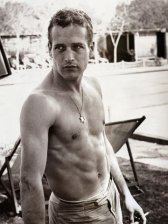 Beloved actor and humanitarian Paul Newman has died of cancer in his home in Westport, Connecticut. He was 83.
Newman, whose stunning blue eyes and immense capacity for generosity made him one of the most cherished personalities of his era, was an extremely private man and was rumored to have been seriously ill for several months. He had canceled some planned appearances in the summer.
Born in Shaker Heights, Ohio in 1925, Newman first made his mark on the stage and TV but his startling good looks and undeniable presence destined him to appear on the screen. Newman often played troubled characters with streaks of nobility such as "Fast" Eddie Felson in The Hustler, and the eponymous, irrepressible roles of Hud Bannon in Hud and the imprisoned rebel, Cool Hand Luke.
But it was his role as Butch in Butch Cassidy and the Sundance Kid, opposite Robert Redford, that thrust him into the realm of superstardom. He followed it with other classic films including The Sting, The Towering Inferno, Slap Shot, and The Life and Times of Judge Roy Bean.
Newman was a star right out of the gate, however, being nominated for an Oscar for his third major role as Brick Pollitt, the drunken husband locked in a loveless marriage with Elizabeth Taylor's smoldering "Maggie the Cat" in Cat on a Hot Tin Roof.
Newman's real-life relationship was exactly the opposite. He was married to actress Joanne Woodward for 50 years. The two worked together in 1958's The Long Hot Summer. It was the same year they were wed and that Woodward won an Oscar for her work in 1957's The Three Faces of Eve.
It was not the end of their professional collaborations. Newman also directed her to another Oscar nomination in Rachel, Rachel (the film picked up four nominations, including Best Picture and Best Adapted Screenplay by their lifelong friend, Stewart Stern). Newman also directed Woodward in The Glass Managerie and starred with her in Mr. & Mrs. Bridge.
Nominated for seven Oscars (including Best Actor nods for Absence of Malice and The Verdict), Newman finally won on his eighth nomination for his reprisal role of Fast Eddie in Martin Scorsese's The Color of Money (he would be nominated two more times afterward, for Best Actor in Nobody's Fool and Best Supporting Actor in Road to Perdition).
But of all the trophies Newman won or was awarded in his life, none seem more appropriate than his honorary 1994 Jean Hersholt Humanitarian Award. Newman's charitable giving, from his Hole-in-the-Wall Gang, a camp for seriously ill children or his proceeds from Newman's Own, are legendary. As was the man. As will be his legacy.
Newman is survived by Woodward, his five daughters and several grandchildren. A son, Scott Newman, died of an accidental drug overdose in 1978.
News Source - IMDb
Posted in Cinema, Entertainment, Film, Films, Golden Age, Hollywood, Movie, Movie Studios, Movies, Paul Newman by KeyserSoze : September 29, 2008 - 6:45pm
---