The Top Selling DVD's

The Wizard of Oz (70th Ann Two-Disc) DVD $16.99
Starring: Judy Garland, Billie Burke Rating: NOT RATED


Up DVD $16.99
Starring: Edward Asner, Jordan Nagai Rating: PG


Monsters vs. Aliens DVD $15.99
Starring: Seth Rogen, Reese Witherspoon Rating: PG


The Proposal DVD $16.99
Starring: Sandra Bullock, Ryan Reynolds Rating: PG-13


Trick 'r Treat DVD $14.99
Starring: Anna Paquin, Brian Cox Rating: R


Snow White and the Seven Dwarfs DVD $18.49
Starring: Adriana Caselotti, Harry Stockwell Rating: G


Star Trek DVD $16.99
Starring: Chris Pine, Zachary Quinto Rating: PG-13


Transformers: Revenge of the Fallen DVD $16.99
Starring: Shia Labeouf, Megan Fox Rating: PG-13


Ice Age: Dawn of the Dinosaurs DVD $16.99
Starring: Ray Romano, John Leguizamo Rating: PG


The Little Mermaid (Platinum Edition) DVD $19.99
Starring: Rene Auberjonois, Christopher Daniel Barnes Rating: G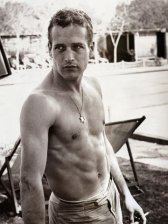 Beloved actor and humanitarian Paul Newman has died of cancer in his home in Westport, Connecticut. He was 83.
Newman, whose stunning blue eyes and immense capacity for generosity made him one of the most cherished personalities of his era, was an extremely private man and was rumored to have been seriously ill for several months. He had canceled some planned appearances in the summer.
Born in Shaker Heights, Ohio in 1925, Newman first made his mark on the stage and TV but his startling good looks and undeniable presence destined him to appear on the screen. Newman often played troubled characters with streaks of nobility such as "Fast" Eddie Felson in The Hustler, and the eponymous, irrepressible roles of Hud Bannon in Hud and the imprisoned rebel, Cool Hand Luke.
But it was his role as Butch in Butch Cassidy and the Sundance Kid, opposite Robert Redford, that thrust him into the realm of superstardom. He followed it with other classic films including The Sting, The Towering Inferno, Slap Shot, and The Life and Times of Judge Roy Bean.
Newman was a star right out of the gate, however, being nominated for an Oscar for his third major role as Brick Pollitt, the drunken husband locked in a loveless marriage with Elizabeth Taylor's smoldering "Maggie the Cat" in Cat on a Hot Tin Roof.
Newman's real-life relationship was exactly the opposite. He was married to actress Joanne Woodward for 50 years. The two worked together in 1958's The Long Hot Summer. It was the same year they were wed and that Woodward won an Oscar for her work in 1957's The Three Faces of Eve.
It was not the end of their professional collaborations. Newman also directed her to another Oscar nomination in Rachel, Rachel (the film picked up four nominations, including Best Picture and Best Adapted Screenplay by their lifelong friend, Stewart Stern). Newman also directed Woodward in The Glass Managerie and starred with her in Mr. & Mrs. Bridge.
Nominated for seven Oscars (including Best Actor nods for Absence of Malice and The Verdict), Newman finally won on his eighth nomination for his reprisal role of Fast Eddie in Martin Scorsese's The Color of Money (he would be nominated two more times afterward, for Best Actor in Nobody's Fool and Best Supporting Actor in Road to Perdition).
But of all the trophies Newman won or was awarded in his life, none seem more appropriate than his honorary 1994 Jean Hersholt Humanitarian Award. Newman's charitable giving, from his Hole-in-the-Wall Gang, a camp for seriously ill children or his proceeds from Newman's Own, are legendary. As was the man. As will be his legacy.
Newman is survived by Woodward, his five daughters and several grandchildren. A son, Scott Newman, died of an accidental drug overdose in 1978.
News Source - IMDb
Posted in Cinema, Entertainment, Film, Films, Golden Age, Hollywood, Movie, Movie Studios, Movies, Paul Newman by KeyserSoze : September 29, 2008 - 6:45pm
---
In the 1880s, the American stage was dominated by 'Vaudeville shows', which were cherished by the residents of North America. Being the primitive genre of variety entertainment, these shows differed from burlesque. As entrepreneurs started experimenting with their movie-making skills, these shows lost all of their glory. Here, achievement of the film, 'The Great Train Robbery' is noteworthy.
In 1910, director D.W.Griffith, with his troop, started filming in downtown Los Angeles. While searching for a more apt location, they found it in a village that was miles northward — 'Hollywood'. The first movie shot by Griffith in Hollywood was 'In Old California', a melodrama of California. Thorough research work identifies a number of points that ushered the beginning of Hollywood movies. But, it was Griffith's 'Birth Of A Nation', which was the pioneering endeavor that whistled a never-ending journey of American cinema.
Gradually, with the growth of Hollywood industry, films were exhibited in Nicholodeon halls. Ambitious people on the production side emerged as the controlling heads of movie studios. They aided the internationalization of films to reduce America-centric provincialism. At the zenith of its popularity, the industry produced about 400 movies a year, with an audience of 90,000,000 Americans per week.
The American studios, however, confronted major difficulties when their sound productions were rejected in various foreign language markets. Also, the synchronization technique was too primitive. Around the 1930s, parallel language versions of films were produced to provide a befitting solution to the problem. With rapid advancement of synchronization, dubbing also became more realistic.
During the Golden Age of Hollywood (1920-1950), the film industry was at the peak of its success. Adherence to the formula of western slapstick comedy, musical animated cartoons contributed to it. The same creative team worked on films made by the same studio. The most renowned studios were Warner Bros., MGM, RKO, etc. Each studio had its own specialized characteristics, a trait not seen today.  Each film was unique in its own flavor, since the moviemakers were all artists and creative people. The release of classics that enriched the industry, were 'WUTHERING HEIGHTS', 'GONE WITH THE WIND', 'CASABLANCA' and such other timeless masterpieces. In the late 1940's, the separation of the production of films from their exhibition and the advent of television led to the decline of the studio system.
The postclassical cinema gave birth to directors from a new school of thought. They introduced new filming techniques and strategies and developed upon the prevailing ones. Films like 'JAWS', 'GODFATHER', 'PSYCHO', and other modern blockbusters' have no doubt added a new dimension to Hollywood. With independent films, another new generation of moviemakers became focused as they made films that were often innovative, critical, unconventional, and contradictory. However, for their considerable financial success and crossover into popular culture, they have become a very influential part of Hollywood mainstream films.
With the passage of generations, directors with their exclusive style and innovations have come up with intellectually stimulating and thought provoking creations, making the history of Hollywood movies interesting as well as amazing.
Author: Victor Epand
Posted in Cinema, Director, Entertainment, Film, Films, Golden Age, Hollywood, Movie, Movie Studios, Movies by KeyserSoze : May 19, 2008 - 5:48pm
---